Ed LaChapelle Archive and Library
San Juan County Historical Society Archive Building
1569 Greene St, Silverton, Colorado 81433
About the Collection
The Ed LaChapelle library spans his active career period plus several years of his retirement. The collection comprises 72 boxes, which contain books, journals, published articles, reports, manuscripts, binders and notebooks (including field notebooks and notes), photographs, slides, videos and maps.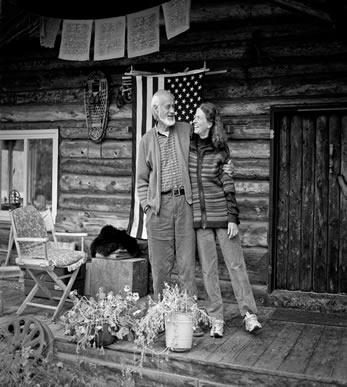 Ed's companion Meg Hunt took the first vital step of cataloging
and boxing materials. Don Bachman then undertook to coordinate the complex move, from McCarthy, Alaska to Silverton, Colorado funded by a $5,000 grant from the American Avalanche Association. Once in Silverton, The collection was archived by Betsy R. Armstrong and Richard L. Armstrong in July 2009. David LaChapelle, Ed's only child, loaned the collection to San Juan County Historical Society in Silverton, Colorado in March, 2009 for a minimum period of ten years. David passed away July 21, 2009, with the literary rights and copyrights passing to his companion, Ananda Foley.
All requests for permission to publish, reproduce, or quote from material in the collection should be discussed with the director of the San Juan County Historical Society. Permission for publication may be given on behalf of Ananda Foley as the owner of the physical item. It is not intended to include or imply permission of the copyright holder, which also must be obtained by the customer. The Library does not assume any responsibility for infringement of copyright or publication rights of the manuscript held by the writer, heirs, donors, or executors. Reproduction restrictions are decided on a case-by-case basis.
Read more about how the collection came to Silverton in Snow Files: Ed LaChapelle's library gets put into order. Silverton Standard & Miner, August 13, 2009)
THE ARCHIVE COLLECTION (xls)
Scope and Content Notes
SERIES 1 SLIDES: stored in metal boxes and notebooks and represent LaChapelle's travel, research, meetings and personal life.
SERIES 2 PHOTOGRAPHS: both personal and professional photographs, black and white and color prints.
SERIES 4 ARTICLES: published articles by LaChapelle and others, including non-English papers
SERIES 5 REPORTS: published and unpublished reports by LaChapelle and others, some with LaChapelle's notes, and term papers, masters theses & dissertations from avalanche researchers
SERIES 6 NOTEBOOKS: LaChapelle's notebooks, files, and binders, which include collections of articles and other materials by topic, plus lecture notes
SERIES 7 SLIPCASES: arranged by subject and contain published articles and correspondence
SERIES 8 VIDEOS
SERIES 9 MAPS
SERIES 10 BOOKS: from LaChapelle's library, both technical and nontechnical.
SERIES 11 SYMPOSIUM PROCEEDINGS
SERIES 12 JOURNALS
SERIES 13 NONSCIENCE MATERIALS