Chris George – Former Board Member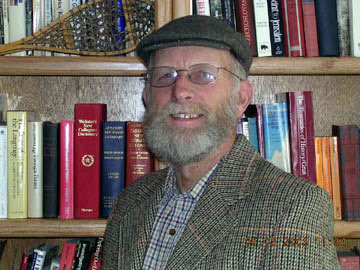 Chris George came to Colorado from Britain in 1967 to teach mountaineering and skiing. He worked for Colorado Outward Bound School for ten years running winter programs at East High School and Colorado Academy in Denver. Chris climbed and expeditioned in the Alps, Afghanistan, Scandinavia, and the Andes. Since 1974 he has run the St. Paul Ski Lodge on Red Mountain Pass. During this time, he has instructed for the American Avalanche Institute, co-directed three World Speed Skiing events, and organized snow safety programs and helicopter avalanche control for the San Juan and La Plata Mountain mining communities. Chris was a guide for the British Mountaineering Association prior to his arrival in the United States.
Chris's initiation in Colorado avalanche study began with training with the Arapaho Basin ski patrol and the USFS Avalanche Ranger at Berthoud Pass in the winter of 1967/68. Upon taking up residence on Red Mountain Pass in 1974, he was appointed to the San Juan County Avalanche Board. In 1975, he took over avalanche observations and reporting for the INSTAAR 'San Juan Project' and the nascent Colorado Avalanche Information Center, both of which he continued until 1995.
Chris has been a member of the delegations that successfully petitioned Colorado governors Lamm and Romer for the construction of an avalanche shed on the East Riverside avalanche path of US Highway 550 and the implementation of formal avalanche forecasting programs on several other Colorado highways. In addition, he has a long association with San Juan County Search and Rescue, providing avalanche mitigation and support during several rescues in the San Juan Mountains. These activities have been documented in the electronic media via National Geographic and The History Channel.
Chris has been an instructor for the American Avalanche Institute, from 1977 to the present, and for the Silverton Avalanche School from 1980 to the present. He is also a professional member of the American Avalanche Association. In 1988 he founded the Colorado Institute for Snow Science and Avalanche Research (CISSAR) which contributed key elements to the East Riverside Tunnel, and later on, the inception of Colorado Avalanche Information Center (CAIC), both of which involved consulting to governors Lamm and Romer. That organization was recently dissolved and its assets turned over to the CSAS.
Most recently Chris has been a founding member and advisor to the Mountain Studies Institute, the Red Mountain Task Force, and the Animas River Stakeholders. Other community service affiliations include service as the President of the San Juan County #1 School Board, and as a member of the Colorado All State Board of Education, San Juan Search and Rescue, Silverton-San Juan Ambulance Association, Silverton Chamber of Commerce and San Juan Historical Society. Past affiliations are chairman of the San Juan County Avalanche Board, Kendall Mountain committee, and Kellogg Foundation committee. See the article the Durango Herald ran on Chris's amazing life. See Chris' St. Paul Lodge Web Site.