HEIDI STELTZER – BOARD MEMBER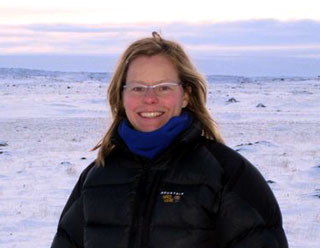 Dr. Heidi Steltzer is an ecosystem ecologist at the Natural Resource Ecology Laboratory at Colorado State University with a specialization in alpine and arctic ecology.  Her primary area of research is on plant and ecosystem responses to environmental change including but not limited to climate change.  Heidi's need for adventure has led her to study vegetation and ecosystem dynamics in remote landscapes, such as Noatak National Park, Alaska; Thule Air Base, Greenland, and the mountain ecosystems of Colorado.
Although much of her field-based research occurs during the short snowfree season, her research contributes to a greater understanding of the effects of snow and changes in snow cover on the ecology of these landscapes.  Conducting most of her research during the summer also allows more time for Heidi to pursue her winter hobbies – telemark skiing, skijoring with her sled dog Nanuuq, and snowboarding.  Her post-secondary education includes a BS with honors in biology from Duke University in 1994 and a PhD in ecosystem ecology from the University of Colorado at Boulder in 1999.  Heidi has lived in Fort Collins and worked at Colorado State University since 2000.  She is involved in community outreach by serving on the Larimer County Environmental Advisory Board and by participating in forum on natural resource issues in Colorado.  Heidi has been involved with the Center for Snow and Avalanche Studies since 2004 and was appointed to the board in 2008. Visit Heidi's Website.