Winter Storm Data 2022 – 2023
MOUNTAIN SYSTEM MONITORING: WINTER STORM DATA
This Precip and Storm Report Excel Workbook contains the current and past 13 seasons of CSAS winter storm data, including:
Dates, times and duration of each winter storm event (2003-current)
Change in the height of snow at both our alpine Senator Beck study plot and our subalpine Swamp Angel site.
Peak gust data from our Putney site.
Mean and maximum precipitation intensity during each storm
Total new water accumulation in mm for each storm event.
Summary data for each month of the season.
Cumulative annual precipitation graph by month
Past Winter Storm Reports:
See our Current Conditions for the latest hourly data. All times shown are in Mountain Standard Time (MST)
---
2022-2023 Winter Storm Reports
Storm Report #24, June 6-7, 2023: A June mixed precip storm
Storm Report #23, May 10-11, 2023: Just over 5 inches at Swampy
Storm Report #22, April 24-26, 2023:  A foot of snow!
Storm Report #21, April 13-14, 2023: Light winds, and 6 inches at Swamp Angel
Storm Report #20, April 3-5, 2023: A few more inches
Storm Report #19, March 30-31, 2023: 0.7″ at SASP
Storm Report #18, March 19-22, 2023: Another 2.2″
Storm Report #17, March 14-March 16: 1.1″ Precip at SASP
Storm Report #16, March 10-March 12: 2.1″ Precip at SASP
Storm Report #15, February 28-March 1: 8 inches of snow at SASP
Storm Report #14, February 21-24:  105 mph wind gust at Putney
Over a foot of new snow at Swamp Angel in this windy storm!
*updated 02-25-23
Storm Report #13, February 13-15:  A dry spell, then 1.5 feet
This most recent storm was a great bump for southern mountains; Taos Ski Valley reported 27″ over the past seven days.
Storm Report #12, January 16-18:  Nearing 2 meters at Swamp Angel
A few days of snowfall brought Swamp Angel snowpack close to two meters and deposited 47 mm of SWE over 62 hours.  1-3 inches of snow are in the forecast starting Friday, January 20, coming from the Southwest.
Storm Report #11, January 14-15:  Weekend Flurries
This past weekend added 8.5 inches at our high elevation study plot, Senator Beck, which hasn't been seeing much increase in snowpack.  We also landed a solid 7.8 inches of new snow and 20mm of SWE at Swamp Angel.
A cool graphic posted by the CAIC shows more moisture heading our way.
View this post on Instagram
Storm Report #10, January 9-11:  Two days of snowfall
A 49-hour storm dropped 7.3 inches at Swamp Angel.  Putney Study plot clocked a 71.8 mph wind gust!
Storm Report #9, January 6: Half a foot at Swamp Angel
Swampy saw 13 mm of H2O and half a foot of snow on Friday.
*note:  a previous Jan 4th storm was removed
Storm Report #8, December 30-January 2:  A 76-Hour Storm
Let it snow.  A nice long storm settled in over the mountains on December 30th, lasting into the New Year.  With the Swamp Angel precipitation gauge still down, Red Mountain SNOTEL SWE data was used in this storm report.
Swamp Angel saw 14.6 inches of new snow, with Red Mountain SNOTEL reporting 69 mm of SWE delivered.   Snow was deposited in many areas across Colorado, and the CAIC issued forecasts across the state warning of very high avalanche danger (image:  CAIC Forecast on Jan 2, 2023).
Storm Report #7, December 27-29, 2022: Snowy Holidays
A multi-day storm dropped 36 mm of SWE at Red Mountain SNOTEL.   Swamp Angel, sitting at 11,060 feet in elevation, gained a foot and a half of snow.  Temperatures averaged around -5 C for the duration of the storm at Swamp Angel, a not-too-chilly 23 F.  The northern San Juan's saw a large amount of avalanche activity following the storm, documented by public and CAIC forecasters, with two cycles of natural avalanches running the night of the 28th and on the 29th, sluffing off the new snowfall.
South/southeast Colorado continued to be left out the bountiful snow, and SWE remains below average.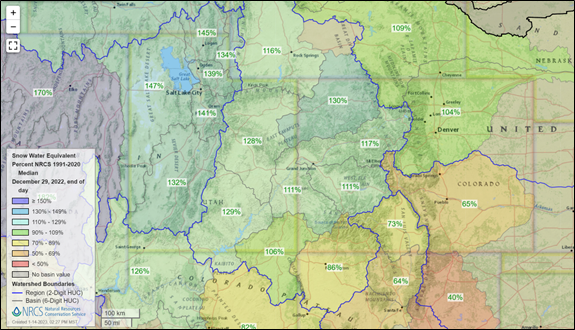 Swamp Angel precipitation gauge sensors went on vacation just as a bunch of snowfall rolled in.  Red Mountain SNOTEL SWE data was used for the following two storm reports.   * Update – Swamp Angel precipitation came back online on 1/6/23.
Data Correction Information – Ella Bump 01-14-23.  RED MOUNTAIN SNOTEL DATA ACCESSED 1-12-23 from NRCS.  This report uses hourly SNOTEL data.  Some manual corrections were made to the SWE data:  If SWE increased incrementally, then RMS snow depth data was checked for an increase along with precipitation, noting the timestamp.  If it seemed reasonable that there was an increase in SWE accompanied by either a bump in snow depth or some value recorded for precipitation, even if perhaps the sensors did not register the addition at the same time, the hourly SWE value was kept.  If there was no increased snow depth or recorded precipitation, or if the SWE value had decreased before returning to a previous value, the hourly SWE value was zero.  The Daily RMS SWE totals were consulted to find some continuity in the amount of SWE gained over the day or few days (ie storm total SWE). 
Storm Report #6, December 12, 2022: Widespread Mt Snowfall
Greetings from Silverton,
Storm #6 only officially lasted about 11 hours during the day yesterday at Red Mt Pass.  This seemingly much discussed storm was widespread in the Colorado Mts. It did not bring much to the lower elevations but specific areas higher up received upwards to a foot while mountain zones in general were in the 6″-10″ range.  Swamp Angel reported 6″ accumulation while the high winds with this storm meant only 3″ at the Senator Beck station. Residual snowfall is expected over the next day and a half. And bundle up, the passing of the storm is ushering the cold for the next several days at least.
Below: Snowfall amounts shown over the last 72 hours to highlight the nice boost in the Sierra Nevada's.  With the wind and cold, northeastern Colorado is under blizzard conditions and many roads are closed.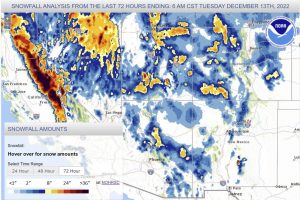 WY2023_Storm_Report #6Take Care
Storm Report #5, December 6-7, 2022: 2.5′ Snowpack at Swamp Angel
Storm #5 of winter 2022/23 came through the Northern San Juan's December 6-7.  This event dropped 1″ of precipitation. Total snowpack accumulation so far this season is approximately 2.5′ at Swamp Angel and above treeline at Senator Beck is 1′. A decent start to the snow season with accumulation being near average.  
The next storm looks to arrive Sunday night and projected to be widespread over the Western Slope with bits of the moisture hitting Northeast Colorado. The longer term forecast is calling for the active weather pattern to continue. Take Care
Storm Report #4, November 28-29, 2022: Another 0.5″ Precipitation
Storm Report #3, November 2-4, 2022: Another Multiday Storm, 1.7″ Precipitation
Storm Report #2, October 26-27, 2022: Little Storm Over 30 Hours
A nice follow-up storm here kept snow on the ground and temperatures cool for the end of October.  Swamp Angel received 14 mm of precipitation over 30 hours, about 16.6 cm of snow accumulation on the ground.  Red Mountain SNOTEL SWE increased to 1.5 inches.
Storm Report #1, October 22-24, 2022: Snow Accumulation Begins for WY2023
Winter kicked off here with a cold Pacific storm bringing about 25 centimeters of snow accumulation at Swamp Angel.  On October 24th at the end of the day, Red Mountain SNOTEL Station reported 140% of normal precipitation with about an inch of SWE.
The storm lasted a day and half, bringing regional, widespread precipitation over the mountains.  Utah received the deepest snowfall total of the storm with an exciting 27 inches of snow accumulating at Snowbird in the Wasatch Mountains.
It is projected to be a La Nina year, with about 70% probability of La Niña conditions persisting through February and a 55% chance of La Niña through March (WWA).  It's worth noting all major Upper Colorado River Basin reservoirs are also below average capacity, and drought conditions persist in most parts of the region except central Colorado this month.