Winter Storm Data 2021 – 2022
MOUNTAIN SYSTEM MONITORING: WINTER STORM DATA
This Precip and Storm Report Excel Workbook contains the current and past 13 seasons of CSAS winter storm data, including:
Dates, times and duration of each winter storm event (2003-current)
Change in the height of snow at both our alpine Senator Beck study plot and our subalpine Swamp Angel site.
Peak gust data from our Putney site.
Mean and maximum precipitation intensity during each storm
Total new water accumulation in mm for each storm event.
Summary data for each month of the season.
Cumulative annual precipitation graph by month
Past Winter Storm Reports:
See our Current Conditions for the latest hourly data. All times shown are in Mountain Standard Time (MST)
---
2021-2022 Winter Storm Reports
Storm Report #7 March 5-6, 2022: Another 1″ Precip, More on Way
Sunday, March 6 marked the end of a 24-hour storm at Senator Beck and surrounding area.  Counting the bits of precipitation a day before and after the storm total precipitation amounted to 1″ at Swamp Angel.  The storm also ushered in our third dust-on-snow event of the season which we reported on March 6.  To state the obvious for many people in Colorado, another storm is upon us with decent snow totals forecasted across the mountain regions and a few inches for the Front Range.  This storm should further cover (in addition to a few inches from storm #7) dust event #3 however large it's spatial extent. More on that soon.    See Storm Report #7 here.   Take Care, Jeff Derry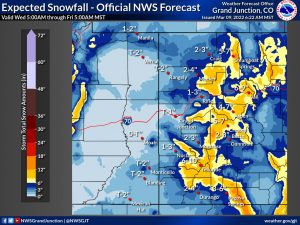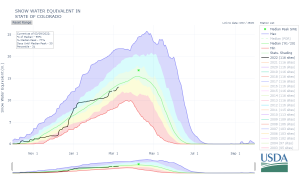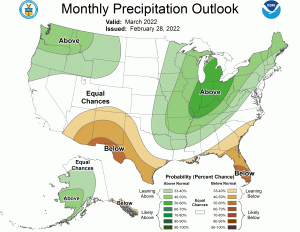 Storm Report #6, Feb 24, 2022: CODOS & Storm Update: 3″ Precip & Big Dose of Dust
Greetings,
It was great to see winter return after taking essentially a 7 week hiatus.  And return it did, a storm that came in two waves in some regions amounted to a four day storm in the San Juan Mts.  Here at Senator Beck it began Monday afternoon and dissipated Thursday mid-morning.  The storm resulted in 3″ precipitation at Swamp Angel (11,060′) as 28″ snow accumulation.  See Storm #6 Report for details.    The wind was active during the entire 4-day event with wind gusts reaching 71 mph at our Putney station.  Snow getting blown around added to already dangerous avalanche conditions. Highway 550 has been closed since Tuesday night.  If you go out stay informed, know before you go.   The storm was ushered in by a heavy dust event that appears to have a large spatial extent.  GOES satellite imagery shows the dust originated in Northern Arizona and carried straight to Southwest Colorado and continued east to include the Rio Grande and at least as far north as Eagle County (where a nasty dust layer was observed).  Photos of the dust are below.  If you have a dust photo you would like to share please send via the CODOS website. Satellite imagery also hints at possibly more dust being mobilized on Wednesday when this system was making a tight turn in the Southwest towards Colorado. We will see when the road opens and we assess the event(s).        Keep an eye out, next week we will post our March 1st assessment of snowpack and dust conditions and offer potential scenarios of how spring will unfold.
To view images related to the storm, please see our CODOS update.
Come, let's go
snow-viewing til we're buried Basho
Take Care
Storm Report #5
The recent Storm #5 ended the very productive storm cycle that initiated the second week of December.  At that time the Colorado snowpack was in the danger zone, very close or at all time minimums.  The very productive back-to-back storms delivered the goods in the mountain zones, springing the snowpack to median levels or much better (150%) according to SNOTEL data networks (see plots below).  The Southern San Juans and Gunnison Basins fared very well.  Swamp Angel saw well over 2' accumulation after the winds settled down and stopped redistributing the snow, and other locals saw much more than that.  Great to see, but there is a lot of winter left, hopefully it keeps coming.
More precip is in the forecast and this time Northern and Central Colorado is in the bullseye with a potential exceedance of 18" in the high mountains.
Take Care,
Jeff Derry
Above:  Forecast for precipitation until Jan 10.
Below:  The Colorado Climate Center has been working OT with the discussions about the climate background conditions and drought that assisted in a historically destructive fire near Boulder last week (our hearts go out to all those affected).  They shared the below image of extremes for the month of December between the east slope and west slope, showing the Standardized Precipitation-Evapotranspiration Index that accounts for both precip and temperature.
Storm Report #4
Obviously a lot of weather activity has taken place since our last storm report on December 16.  An atmospheric river kicked off an active weather pattern that has brought the Colorado snowpack out of a very bleak state into the near normal realm, and the western U.S. snowpack has benefited tremendously as well with record snowfall in the Sierras.
At Swamp Angel we have seen a 16" gain in snow depth as 1.6″ of water since the start of Storm #4 on December 23.   The wind has been a big factor with gusts up to 80 mph and average wind speeds holding 50-60 mph for long periods which have really pushed the new snow around.  Some ski operations, like Telluride Mt, shut down lift operations for the day on Dec. 26.
These consistent and high winds out of the Southwest not surprisingly brought dust.  A pretty stout layer now resides in the Southern Colorado snowpack up to roughly 1′ below the surface.  See pictures below.  We will be assessing the extent and severity of this event over the next few days as well as during our Colorado Dust-on-Snow Program's spring tours around the state.
More soon, another storm is currently in the making.
Take Care,
Jeff Derry
Above: Photo taken by Skippie Zeller on December 27, 2021.
Below:  Photo Chris Bilbrey on December 27, 2021.
Storm Report #3
A day long wind storm rocked Utah, Wyoming, Colorado, continued wreaking havoc into Kansas, Nebraska, and is currently working its way towards the Great Lakes region.  At our study basin at Red Mt Pass (Putney station at 12,325′) we recorded wind gusts as high as 106 mph. The storm did bring a little bit of snow, if it ever had a chance to stay on the ground, at the treed Swamp Angel site we observed 5" new snow accumulation and at the alpine site we saw ~2".  This bit of new snow and strong winds formed dangerous slabs in the high country.
On the Front Range and looking east it was even more dramatic.  Wind gusts 70-107 mph kicked up dust in the region of Southeast Colorado and swept it into Kansas and Nebraska.  The footage is pretty intense of zero visibility dust storms, tornadoes, and flying debris.
With such intense wind we assume it resulted in some amount of dust being transported onto the mountain snowpack.  We will begin assessing the severity and spatial extent, if you have any informative photographs please share.
The forecast calls for a bit of snow today into tomorrow mainly for Northern Colorado.  Next week brings another chance of snow but the crystal ball is still pretty cloudy on this opportunity.
Take Care,
Jeff Derry
Above: Image and comments from @US StormWatch.

Below: The Colorado Climate Center posted this map of winds gusts observed at ASOS stations
Storm Report #1 and #2
Nice to see the first significant snows of winter finally arrive.  Since the start of the water year – at Center for Snow & Avalanche Studies' Senator Beck Study Basin located near Red Mountain Pass in the Northern San Juan Mountains – it has been largely very dry (as elsewhere), we did see a nice early season storm on October 12 that brought 1.6" precipitation, and October 26 we received 1.4" precip that seemingly established persistent snowcover in the high country, but over the ensuing weeks much of the snow was ablated, particularly on southerly facing aspects.  Coloradoans were relieved to see a break in the weather pattern and the arrival of Storm #1, Dec 6-7, and Storm #2, Dec 8-11. The snow hydrographs of the start of snow accumulation over the past few years are erratic like that of a lumbering bird trying to take flight.  This year was no different, Storms #1 & #2 delivered 2.7" precipitation as ~1.6' snow accumulation, showing as a sizable boost in SNOTEL and CSAS data.  Of course the snow accumulation season is just getting started and we are still below normal snowpack, but at least flat line conditions have been interrupted for now.
The forecast for Tuesday night thru Wednesday is calling for 5"-18" snow accumulation in mountain areas with more chances of snow later in the week.  Hopefully another storm report soon.
See Storm Report #1 and Storm Report #2 here.
Take Care,
Jeff Derry