CHRIS LANDRY – FORMER EXECUTIVE DIRECTOR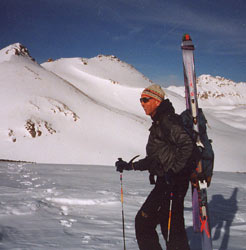 Chris Landry brings his own blend of snow experience to the Center for Snow and Avalanche Studies. He began his skiing life, as the son of a 10th Mountain Division Lieutenant, at age four at Big Mountain, Montana, under the watchful eyes of his parents, then running the resort, and Tony Matt, the director of the ski school. His skiing career progressed from those fledgling jumps in front of the lodge to a junior and college racing career, competing 'four ways' (in combined alpine and nordic meets) during high school in Colorado. Ski racing eventually gave way, in tandem with an emerging passion for climbing, to ski mountaineering, and even a few pioneering ski descents in North America. Still later, Chris organized and designed a not-for-profit, community cross-country ski area near Carbondale, Colorado.
Along the way, Chris pursued formal private instruction in avalanche safety, then became an instructor for the American Avalanche Institute, published a field workbook for backcountry skiers and guides, and established a practice as a private avalanche consultant/forecaster. Among his clients, he provided avalanche forecasting services for seven winters to a mining concern operating adjacent to a Federal Wilderness Area, thereby precluding the use of explosives and requiring an innovative 'avoidance' program based on forecasting alone. Most recently, Chris earned a MSc in the Department of Earth Sciences at Montana State University – Bozeman, where he researched the spatial variability of snow stability on uniform slopes. As a direct result of that research, and of Chris' professional experience, he and his MSU advisor, Karl Birkeland, have turned their geographic training toward the investigation of snow and avalanche processes as examples of 'non-linear, dynamical systems' exhibiting scale invariance and other 'self-organizing' properties.
In addition, along Chris's long road leading to formal snow research, he was also active in his community, serving on local government boards and organizing and leading an innovative ranchlands conservation organization which has since expanded to a regional operation. Thus, Chris contributes an eclectic and diverse range of skills and experience to the development of the CSAS. email: clandry@snowstudies.org